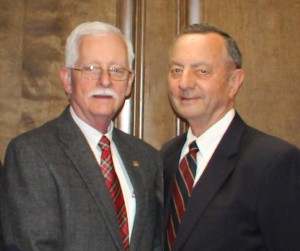 Ed Pickett is a native of Liberty, Texas, the son of Brand and Elizabeth Pickett. He bears the name of his great great grandfather Edward Bradford Pickett who settled in Liberty in the 1850s. Ed was born on December 7, 1940; the date that will live in infamy at which time he celebrated his first birthday at the home of his grandparents E.B. and Sydney Pickett where his brother Carl and family now live. Ed was a graduate of Liberty High School where he then went to receive his undergrad from the University of Texas. Ed returned home in 1964 to practice law with his father and married Sandra Jircik (Sandy) that same year. Ed was called to service and joined the US Coast Guard during the Vietnam War. He began his banking career in 1970, when he joined the First Liberty Bank's board of directors and became the bank's attorney. At the time, his father, Bradford Pickett, was the bank's president. He is an active Rotarian and serves on many service organizations. He is very well known and respected in his community.
Paul J. Henry is a graduate of Liberty High School in 1967. He attended the University of Houston and received his Bachelor of Business Administration in 1971. He married Judy Powell Litton in July of 1973, his stepson James Dale Litton, Jr., and step grandson James Dale Litton III. In August of 1980 Mr. Henry graduated from the Southwestern Graduate School of Banking at Southern Methodist University majoring in Commercial Banking. Judy Henry passed away in June of 2005. He later married Linda Jamison in September of 2016 they currently reside in Dayton, Texas as he continues to serve as a Director on the Board with First Liberty Bank. Paul began his career as a mortgage loan officer with First Liberty Bank in November 1972. From 1972 to 1988, FLB was the largest mortgage loan bank in the county. During 1988 to 1991, FLB survived the Texas recession and was the only bank in the county to be profitable and pay a dividend. In 1991, Paul was promoted to President of First Liberty Bank. He retired in January of 2017 but remains to be an active member of the Board of Directors. Mr. Henry has served and continues to be active on many community organizations, various groups within St. Stephen's Episcopal Church, Rotarian, Liberty City Council, Liberty County Hospital District #1, Liberty Library Board, Trinity Valley Exposition, and the Liberty County YMCA.
Please join us in congratulating Paul Henry and Ed Pickett on 50 Years in Banking.
---