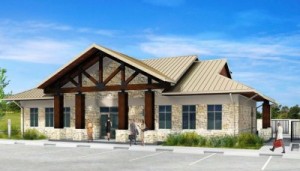 First Liberty Bank opened its newest location today on Highway 90 in China. The bank is in a prime location to serve the bank's growing customer base in Beaumont, as well as the expanding neighborhoods in the surrounding community.
"We're pleased to bring our brand of banking to the area," said Kelly Stretcher, FLB's CEO. "We are a people-first bank and believe in treating our customers as we would like to be treated. Our bank has been designed specifically for this location, with a community room that area groups can use for meetings, extended hours in both the lobby and drive-thru, and even Saturday hours to serve customers who can't get to the bank during the week. Plus we've got an experienced team just waiting to serve new customers."
The building is nearly 2,800 square feet with a motor bank. Instead of traditional teller windows, customers will use interactive teller machines (ITMs) that connect to a live teller in a service center in Liberty for monetary transactions. An ITM is also in the motor bank; during bank hours it will have the same personal service capabilities as the lobby ITMs, and then function as a traditional ATM after hours. There is ample parking and easy access to the parking lot from Highway 90.
As the branch manager, Whitney Weatherford will lead a team that includes lending and customer service staff. She, along with Kelly Stretcher, are featured in several TV spots and other promotional materials the bank has created to market the new location.
The China bank is the fifth FLB location, joining banks in Liberty, Dayton, Huffman and Hardin.
---